Housing in India and government attitude towards it
Housing is an important aspect of city development. Population growth in a city is mainly attributed to two main reasons: migration from different areas in search of jobs and natural growth (birth rates exceeding death rates). However, the pace of housing provision, particularly by government agencies, is never able to keep up with the pace of population increase. Also, the National Urban Housing and Habitat policy-2007, which emphasizes "Affordable housing for All", aims at 'Forging strong partnerships between public, private and cooperative sectors for accelerated growth in the Housing Sector and sustainable development of habitat'. At the end of the day, it's all about Roti, Kapdaa aur Makaan.
The Constitution of India recognises housing as a basic necessity and provision of housing facilities has been one of the main concerns of our planners and policy-makers down the years of our successive Five-year plans. However, the Right to shelter or housing is not a fundamental right (The Fundamental Rights are defined as basic human freedoms which every Indian citizen has the right to enjoy for a proper and harmonious development of personality. These rights universally apply to all citizens, irrespective of race, place of birth, religion, caste, creed, colour or gender. Source: Part III- Fundamental rights- Constitution of India) in India. However, to understand the concept of housing, we first need to understand "what is a house?". Although there are numerous definitions of the term provided by different scholars and institutions, the Census of India defines the term 'house' as: every dwelling with a separate main entrance. However, a house may also be defined as a shelter or building or structure that is a dwelling or place for habitation by human beings. The term includes many kinds of dwellings ranging from rudimentary huts of nomadic tribes to high-rise apartment buildings. Whatever may the kind be, a house provides basic shelter to the human beings. In this age of ever increasing human wants, it is necessary that the basic need for shelter is fulfilled first.
Housing in India is as diverse as its population. Broadly, it can be categorised into urban housing and rural housing, in the manner it is addressed by plethora of government interventions. Issues and challenges vary for each category and so does the attitude of the policy makers and institutions intervening in provision of this basic human right.
Urban housing in India has undergone a change in terminology and emphasis since Independence in 1947. Post- Independence, urban housing concerned with provision of a plot of land by the Land and Development Agency for the influx of refugees from Pakistan and divided Punjab and surrounding areas. By 1956, slums had become focal, and to tackle the issue of rising slums, site and services scheme was initiated at the centre, along with legal tender to notify certain areas as slums, in accordance to Slum Areas (Improvement and Clearance) Act, 1956. Slums, however, continue to be one of the significant challenges for the urban housing sector in India. With the expansion of cities in extent and population size, government is either not able to cater to the demand of affordable housing, or not able to meet the need of it in terms of design of physical units. For example, many a times, government at the centre and state provide housing units for the economically weaker sections of the society, but instead of shifting to the allotted unit, the allottee sells the unit to a real estate agent (who uses it for commercial purpose or rental property) and moves back to the earlier spot of slum settlement, while in few cases, settle in a slum at a new crevice of the city fabric. Another instance worth mentioning is case of the famous Kathputli colony in Delhi, where government along with a private developer in public-private partnership mode (PPP) has been able to cater to the demand of affordable housing units in multi-storeyed towers, but unable to meet the need of physical space which enables the community of puppeteers, musicians, dancers, etc to perform their art.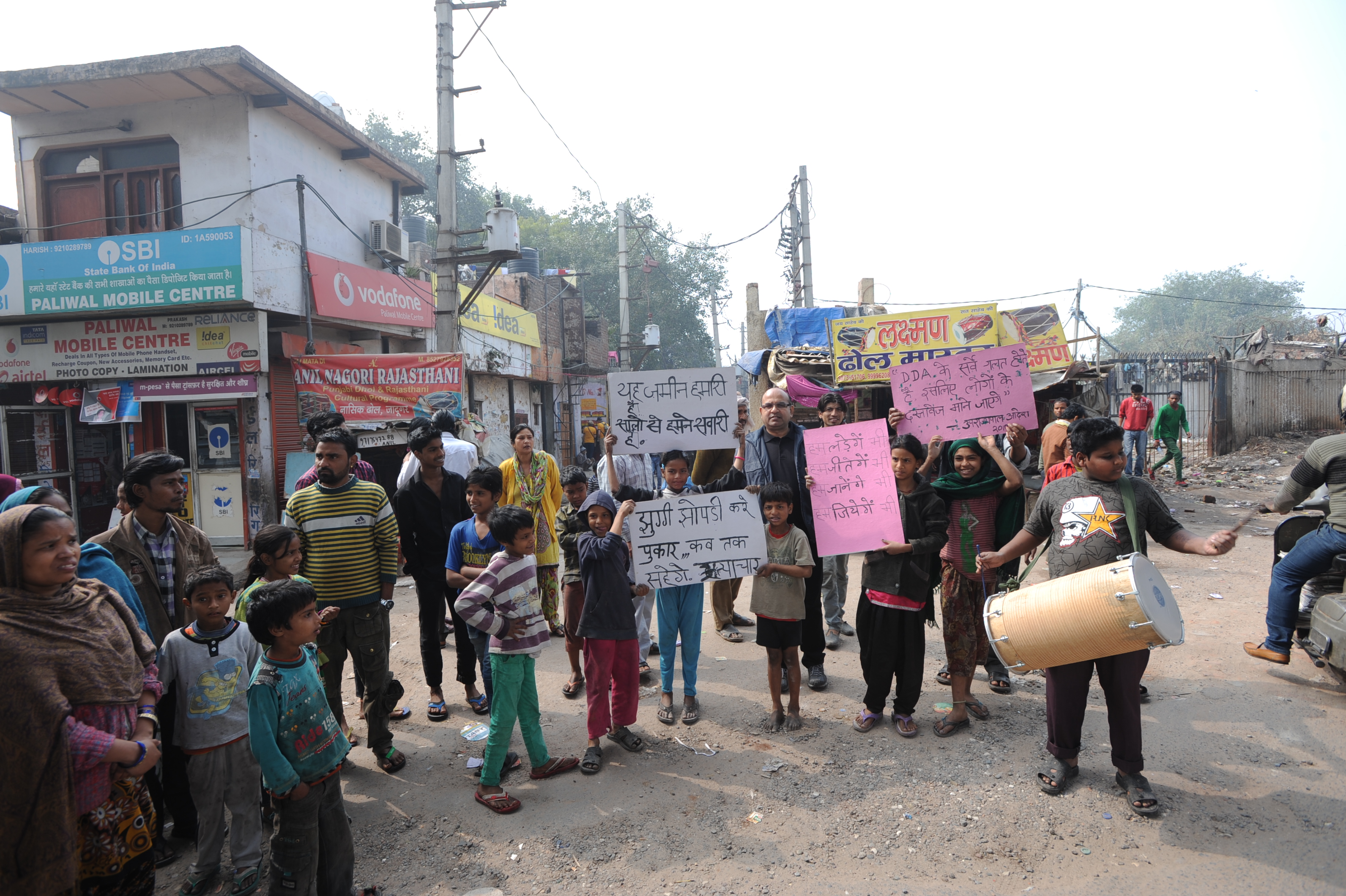 Picture of ongoing demonstrations by basti of Kathputli, Delhi against the government project of relocation and rehabilitation (Picture by Author. 2015) - After years of agitations and conflicts, the entire basti has been cleared off to make way for new 'formal' development
In case of rural housing, issues differ. Rural housing in India is often associated with farming (for example, agricultural labourers working on other farms), self-constructed houses, or in some instances housing units constructed by a local mason, unlike a professional civil engineer or architect of a city dwelling unit. The Government has taken two sets of interventions with regards to rural housing in India – one, provision of homestead sites for rural poor who qualify in the list of below poverty line. A homestead site was provided under the provisions of Indira Awaas Yojana, wherein a homestead comprised of adequate land for construction of dwelling unit as well as subsistence farming and animal rearing. Second, training of rural masons to resilient housing.
Lately, housing issues and challenges in India have become a political priority and gone beyond the usual emphasis on demand supply gap fulfilment to include the issues of electrification, clean fuel, sanitation and disaster resilience, with limited emphasis on the latter.
Providing housing is not the ultimate goal, rather being able to live in it, move and stand in the dwelling unit without overcrowding and equipped with basic services of sanitation and water shall be the ultimate goal (adequate housing).  Hence, the aim of 'Affordable housing for all' shall be modified with "Adequate and Affordable housing for all" with detailed guidelines as to what shall be considered adequate.
Editor - Ian Babelon
Stay Informed
When you subscribe to the blog, we will send you an e-mail when there are new updates on the site so you wouldn't miss them.
Comments
1 […] and geographical differentiation of the issue in different parts of India. She also writes about housing in India and government attitudes toward it, arguing for a holistic approach that goes beyond 'affordable' housing for all to one […]
[…] and geographical differentiation of the issue in different parts of India. She also writes about housing in India and government attitudes toward it, arguing for a holistic approach that goes beyond 'affordable' housing for all to one […]