2019 Recap: AESOP YOUNG ACADEMICS in ACTION
Read time: 2-3 minutes
Guest author: Agnes Matoga (Chair of AESOP YA Coordination Team, TU Kaiserslautern)
As Chair of the AESOP Young Academics Network 2019-2020 I proudly look back on the past year. Not only was the YA Network praised by various senior scholars and others involved in AESOP activities, but we definitely pat ourselves on the back as well. Please don't get me wrong, but I think it is important to acknowledged what we have achieved during 2019! Allow for a brief recap:
We started the year with an amazing Conference at the Technical University of Darmstadt on the topic of "Planning inclusive spaces: An inter- and transdisciplinary approach" where 38 speakers presented their research in four parallel sessions chaired by some of the most renowned senior scholars. The AESOP Young Academics Conference is our most important event, where young scholars are given a platform to not only present their current research, but also discuss and receive feedback. In 2019 we also awarded the bid for hosting the 2020 YA Conference to the Czech University of Life Sciences Prague, where young scholars will meet and discuss the topic "Planning as a conflict resolution". Hope to see you there!
(https://www.aesop-youngacademics.net/en/ya-conference-2020)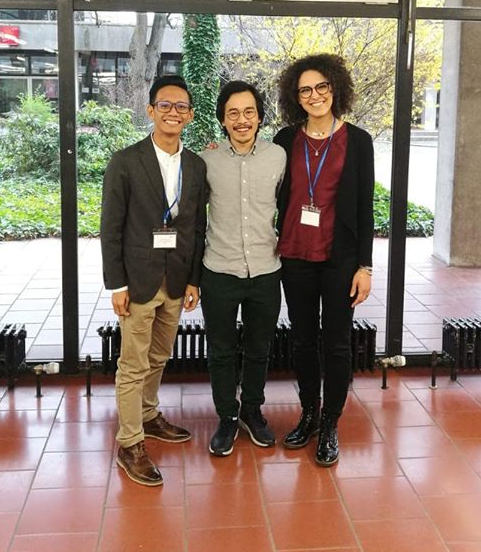 Winners of the Best Paper prize at the 13th AESOP YA conference in 2019 held in Darmstadt. First place: Elton Chan, followed by Sara Caramaschi and John Ceffrey Eligue. Picture credit: Irene Luque (5 April 2019).
In this year, three new Coordination Team members have been elected and commenced their work as representatives of the network. Congrats to Rozana Darwich, Pinar Bilgic and Dexter Du and welcome to the team!
(https://www.aesop-youngacademics.net/en/about-ya)
The Young Academics have also been very present during the AESOP Annual Congress, held in Venice. Some of the major accomplishments include successfully presenting and receiving funding for hosting two YA Conferences in East and South East Europe! As most of you are probably aware of, the YA Conference is an event that does not receive much funding from AESOP, but has to gather sufficient budget themselves. With a growing tendency of YA Conferences being held in Central, North and West Europe, we wanted to take action and show, that the YA Network is also represented in the East and South East of Europe. Applications from these countries have been almost nonexistent, that's why AESOP Young Academics is reaching out with the help of AESOP by offering funding up to 13.000€ for each conference, if it takes place in countries of East and South East Europe. Please see here for further information: https://www.aesop-youngacademics.net/en/guidelines-for-organisers
The Booklet Project has been successful in publishing three new volumes. Those include "Fainstein: Fragmented States and Pragmatic Improvements", "Lacan: Introducing thinkers for planners – a narrative and conversation" and "Practicing a Polycentric (Post) Metropolis: A dialogue about the Milan region". Good job!
(http://www.aesop-planning.eu/en_GB/booklet-series)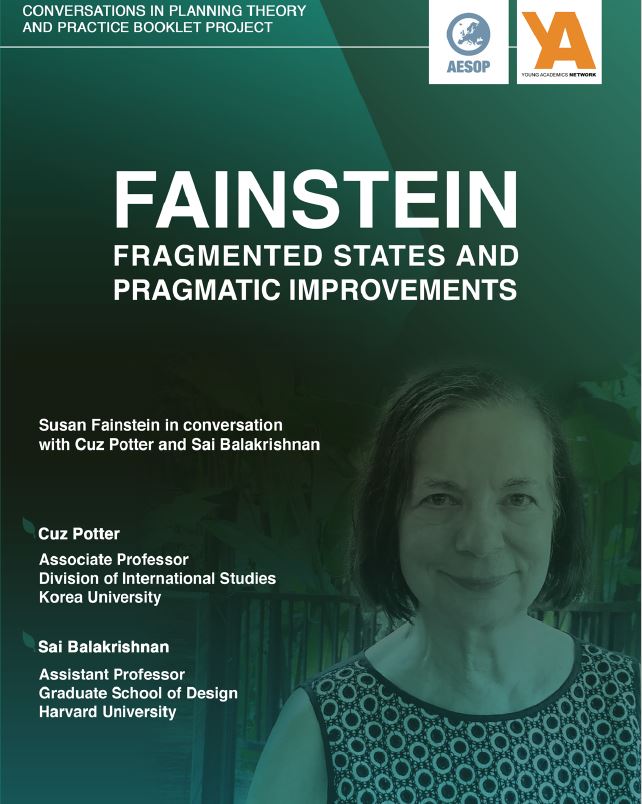 The Booklet Series enable inter-generational learning between senior and younger academics, as well as various engaging thematic discussions. Here: paying the dues to Susan Fainstein's important work about justice and other themes, with insight from many key academics in the field.
PlaNext, our open access, peer-reviewed journal has a new addition as well! "Making Space for Hope" is PlaNext's 8th volume, that resulted from the AESOP PhD workshop 2018, held on the Swedish island, Tjäro. This volume is special, because for the first time, the format changed, and we are looking forward to more special issues! Have a read of the volume, which has been guest-edited by Lina Berglund-Snodgrass, Dalia Mukhtar-Landgren and Lena Greinke: http://journals.aesop-planning.eu/volume-8/
Last but not least, we were able to make the "YA Co Chairs" and the "Expert Clinic" permanent projects and we are looking forward to see how these perform during the next AESOP Congress in Bristol, 7-11 July, 2020.
To conclude, by contributing to the AESOP Young Academics Blog, we want to encourage you to participate as well. Whether it is a contribution to the blog itself, a presentation at the Conference or attendance at the PhD workshop etc. – take the opportunity and take advantage of the opportunities that the YA Network offers! 2019 has been a fruitful year, but we are ready for 2020, with more ideas for projects. Subscribe and become a member here! https://www.aesop-youngacademics.net/auth/login
Stay Informed
When you subscribe to the blog, we will send you an e-mail when there are new updates on the site so you wouldn't miss them.
Comments
1 […] out also the recap of the YA network's activities in 2019 by Agnes Matoga, one of the most productive years in its […]
[…] out also the recap of the YA network's activities in 2019 by Agnes Matoga, one of the most productive years in its […]